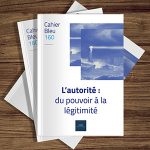 DISCOVER OUR BLUE BOOK ABOUT AUTHORITY (in french) !
More than 60 years of experience have shown us that a lot of problems can be solved thanks to a proportionate authority.
WE CREATE ENVIRONMENTS THAT CREATES UNITY AND PERFORMANCE
OUR
APPROACH
We help manager to create a performance oriented culture, in order for the employees to be confident and responsible for their tasks.
Nous vous posons 3 questions fondamentales
1.
Are your employees at the heart of your management policy ?
2.
Do your employees have an interest in doing well ?
3.
Are the rules of the managerial game known and practiced by everyone ?
A few simple, common-sense principles

To create trust

To gather and give a meaning
A united team dedicated to the client: the common goal

To empower
Associate responsibilities with power: the nail and the hammer
A concrete and pragmatic approach
➡️ First of all, we observe behaviour
➡️ We involve all management levels, starting with the CEO
➡️ We bring management and employees together around clear principles
Nos modalités d'intervention
☑️ Advising management
☑️ Team coaching
☑️ Management training
☑️ Individual accompaniment
No Results Found
The page you requested could not be found. Try refining your search, or use the navigation above to locate the post.